The ECS. Rabid fans you'll actually want to hang with.
In most cases, if Redhook went to a sporting event and sat next to someone who stood, sang, swilled, chanted and danced the ENTIRE FREAKING TIME, he'd be pretty annoyed. Imagine sitting next to the dudes below. Other than major surgery, it'd be the worst three hours of your life.
Then again, soccer's different than other sports. And the Emerald City Supporters (ECS) are way different than any other sports fans. At more than 3700 members strong, they're the cornerstone of Seattle Sounders FC's huge home field advantage.
Rather than engaging in the "You suck, Ref!" negativity of many sports fans, they inspire the Sounders through positivity. And when the ECS incite 39,000 fans at CenturyLink Field to join them in a cheer, it's pretty cool.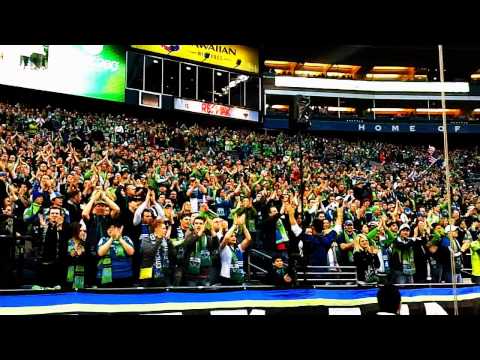 As the official craft beer of Seattle Sounders FC, Redhook's spent many a match cheering alongside the Emerald City Supporters. And from the moment he first heard the ECS chant "We Came to Drink," Redhook knew he'd found kindred spirits.
That's why, in conjunction with the ECS, Redhook has brewed No Equal Amber Lager. Everything from the final recipe to the label design was done in partnership with the ECS to make sure the beer would turn out perfectly for the ECS crew. The result is a flavorful beer that's drinkable enough to be enjoyed pre-match, during the match and post-match. No Equal Amber Lager is available in 22-ouncers and on tap throughout the PNW.
The Sounders FC kick off their 2012 MLS season this Saturday, St. Patrick's Day, at CenturyLink Field versus Toronto. To celebrate, the ECS will be hosting a block party at the corner of Occidental Ave. and S. Washington St. The event is 21+, with food, a beer garden, ECS membership and merch tables, and more. The party starts at 1 p.m. and it sounds like the perfect occasion for you to try No Equal Amber Lager while learning the words to "We Came to Drink." After that, you can debate the merits of the 4-4-2 formation versus the 4-3-3 with your fellow fans. Cheers.