Redhook Embraces Newfangled "Can Technology"
Behold: delicious Redhook IPA in a can.
Yup, 77 years after canned beer first went on sale in America, Redhook is introducing its first brew in a can. We just wanted to be sure this whole "can thing" wasn't a fad. Plus, we wanted to make sure our IPA tasted as perfectly hoppy and delicious in cans as it does on tap and in the bottle. It does.
Probably the best thing about cans is that the empties are light and easy to pack out. That makes Redhook IPA in cans perfect for doing anything, anywhere. Although we can't in good conscience recommend drinking and hunting at the same time. Post-hunting, though? Totally cool.
Another great thing about cans? Their crushability, particularly against one's head. The great John Belushi taught us this and it's remained a reliable punchline at parties ever since. If you'd like to know how to crush a can against your head without giving yourself a concussion, click here.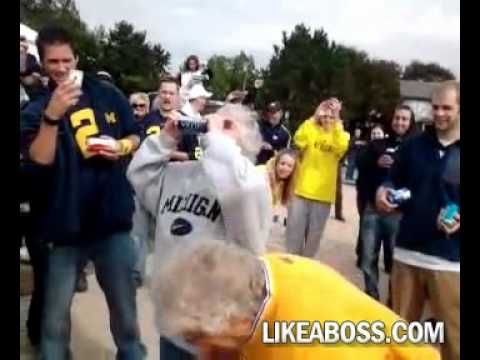 Lastly, people (primarily college students and hillbillies) will ask, "Should I shotgun new Redhook IPA in a can?" No, you should not. For one thing, Redhook frowns upon irresponsible drinking, which shotgunning definitely is. For another, shotgunning tends to waste beer, which we also frown upon. Lastly, shotgunning doesn't look nearly as cool as you think it does. Check out the old ladies above. An odd combination of cute and sad. Woooooo!
Yes, our new IPA can opens up a world of possibilities, including beer can chicken, beer can mini stoves and a simple way to improve your wi-fi reception. Google it.
Of course, we think the best use of our IPA is to drink it.
Cheers.