Will Redhook Be Lord of the Dance at Sasquatch?
Like most dudes, Redhook isn't much for dancing. And there's a reason. Like most dudes, he's horrible at it.
Now, if you're about to say, "Come on! Dance like nobody's watching! Love like you've never been hurt! Blah blah blah," please stop. Yes, it's a nice thought. But does it need to be on millions of t-shirts, fridge magnets and decorative plaques? No.
Beyond that, it's pretty odd no one really knows who said it. From Mark Twain to William Purkey, Satchel Paige and Alfred D. Souza, that warm (now trite) thought has been credited to many people over the years. Enough already.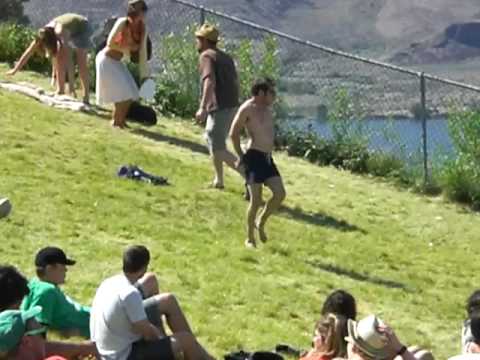 All that said, Redhook acknowledges that sometimes you need to leave your cynicism and insecurities at the door and just go with it. Like the guy above at the 2009 Sasquatch Festival.
Speaking of Sasquatch, Redhook will be there this weekend for the festival's 10th Anniversary. There's a great lineup, including Foo Fighters, Wilco, Death Cab for Cutie, Modest Mouse, The Head and The Heart and tons of other bands.
If you're headed to the Gorge, make sure you swing by the Redhook Brewery in Woodinville first and pick up a Redhook/Sasquatch car decal kit, while supplies last.
Then, hit the Redhook Tailgate Party at the Gorge Campground where you'll find food, beer, games and Sasquatch music prizes from our friends at 107.7 The End. There's even a BYOM (Bring Your Own Meat) barbecue with DJ Harms grilling from 11 a.m. to 1 p.m. on Saturday, 5/28.
See you there. Have fun, be smart and remember to bring sunscreen.